2015 has come and gone by pretty quickly, especially in the world of anime. This year, there were many sleeper hits, sequels to beloved shows, and new anime that really took the spotlight. As new anime is premiered, fresh characters capture the hearts of viewers everywhere, breathing life into their stories. From serious shows to comedies, there were a lot of new anime characters that broke the generic anime character tropes or archetypes. The list below consists of some of the best anime characters of 2015.
Before starting, there are a few details that were considered when choosing the best (NEW) anime characters for this year:
Characters must have premiered in a broadcast during the year of 2015. This includes Fall 2014 shows that ran for two cours (Fall 2014-Winter 2015).
Characters must be from a new series and NOT a sequel. For example, Yato from Noragami may very well be the best character in 2015 anime. However, since he is not a new character from this year, he is not considered in this list.
There is one character per series.
These are not ranked in any particular order.
Also, there are minor character spoilers in some of the descriptions. If you have not seen the show, be careful when reading.
So without further ado, here are the 8 best new anime characters of 2015:
---
1. Kurokami no Onna (Chiyuki) (Death Parade)
Death Parade, arguably one of the most interesting and iconic new anime series from this year, has a vibrant cast of characters. Chiyuki is one of the most important, and interesting characters in the series, having an amazing backstory as well as being one of the only characters who has a distinct personality despite suffering from amnesia. In Death Parade, people who die simultaneously on Earth are sent to a mysterious bar before passing on, often being forced to play insane death games that reveal their true nature. Chiyuki wakes up one day without any memories, and is shown the ropes. Her backstory is revealed in bits and pieces as she watches others go through their own revelations and play the games, voicing her opinion and gaining more confidence as time goes on. However, her past reveals something extremely interesting and heartbreaking, facing depression head on while dealing with an injury that benched her from the thing she loved. Her interactions with Decim and the emotional bond they form is one of many reasons that makes Chiyuki a great and integral character that should be remembered for years to come.
---
2. Umaru Doma (Himouto! Umaru Chan)
Relating to a specific character is one of the driving forces for what makes a character likeable, and Umaru-chan definitely fits this qualification. Umaru Doma is an  admired "normal" teenager during the day, well liked by her peers. However, as soon as she comes home, she becomes an annoying chibi hamster that is selfish, lazy, and demanding. Following her adventures, Umaru must choose whether or not to buy that $60 video game that was meant for new clothes, stay up all night watching anime, or annoying her brother with her constant lazing around. From how she acts to the things she says, Umaru is a great, comical representation of a nerd that is very relatable and funny. Her series is a great refresher from some of the more serious shows out there.
---
3. Takehiko "Gakuto" Morokuzu  (Prison School)
An anime based on the popular manga of the same title, Prison School can be described as a hilarious show about a group of guys at an all girl's school who decide to peep one day, facing the wrath of the student council and "imprisonment". Beneath the fanservice and sexual content lies an amazingly funny comedy with great characters from both sides, each one having their own quirk or unique trait about them. Perhaps one of the best characters in the show is Gakuto, otherwise known as the biggest bro ever, "yours truly". Starting off as a creepy, long haired history otaku, Gakuto proves himself as one of the loyalest friends to ever exist, constantly taking the blame for many issues, formulating a plan for his friend to escape, and even putting himself through the most embarrassing situations ever. Over time, his character develops tremendously, being both a great friend and likable nerdy character.
---
4. Saitama (One Punch Man)
It's no secret that One Punch Man might possibly be the most popular anime this year, and one of the reasons it has been so enjoyable is because of its main character, Saitama, otherwise known as the most powerful hero on Earth. One Punch Man is a parody on the shounen genre of anime, making fun of over-the-top battles, overpowered heroes, crazy villains from outer space, as well more tropes within the genre. Saitama can defeat any enemy with simply one punch, as he is trying to find excitement in his future battles. He is a unique protagonist because he believes that has become emotionless due to his "boring" battles, often commenting on how he wishes that he can have more of a fight. His expressions are priceless, especially his interactions with others. Genos, a hero he takes under his wing, make for an excellent pair, as both have distinct and amazing personalities that bring this show to life.
---
5. Takeo Gouda (Ore Monogatari)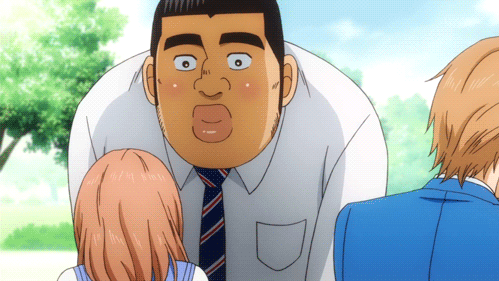 Ore Monogatari, or My Love Story, is perhaps one of the best "shoujo"anime out there. Takeo, a large, muscular teenager is often mistaken as a creep, and often is made fun of for his looks. However, despite his "scary" appearance and reputation, Takeo is very kind hearted, helping his friends no matter how difficult it might be. One day, he meets a cute girl named Yamato, and instantly falls in love. However, he must deal with every girl he is interested in falling for his attractive friend Suna. The story follows him and his relationship with Yamato, being one of the most adorable couples ever. Takeo is such a great new character because he is completely different than the typical love interest in a shoujo series, in both appearance and personality. Yamato and Suna are also amazing characters, completely deriving from the stereotypes commonly found in love stories. However, Takeo's reactions, kind heart, and lovely personality make him one of the best characters in 2015.
---
6. Hestia (Danmaichi)
Otherwise known as the girl that has appeared nearly everywhere in the anime world, Hestia made her debut in the series Is it Wrong to Pick Up Girls in a Dungeon? (DanMaichi). Hestia is a goddess who is in love with Bell, an adventurer she protects and fights for. What makes Hestia so appealing is her personality, energy, and overall attitude. She's pretty, a very diligent worker, and has a great attitude towards everything. As soon as DanMaichi premiered, Hestia became an instant hit with the fans and a figure of her was almost immediately produced. She's easily one of this year's favorite characters, and hopefully will continue to be if there is a second season.
---
7. Shinichi (Parasyte)
Although it originated from a manga that started in the 1990's, Parasyte did not have an anime until very recently. Parasyte, as a manga, was a classic sci-fi story which still is just as great today, with twists and turns that will keep you on the edge of your seat. It follows the story of Shinichi and an alien parasite that attached to his hand named Migi. Although the concept sounds far off, it is a grisly, dark tale that delves deep into the concept of what exactly it means to be human. Shinichi, as a protagonist, is an awesome and complicated character who undergoes a serious development, increasingly becoming more emotionless the more he must deal with Parasytes. He struggles with being a human, undergoing major emotional turmoil to the point in which he is unsure about himself anymore. Shinichi's relationships with others are well written, as well as who he becomes in the end. This makes Shinichi one of the most complicated and multi-dimensional characters to ever premiere in an anime.
---
8. Yona (Yona of the Dawn)
When thinking of the typical shoujo protagonist, it's easy to imagine common character tropes.  Often the female character is solely focused on romance, the entire relationship between her and her crush the epicenter of the story. Many of these protagonists are dependent on their boyfriend/love interest and unfortunately do not stand up for themselves. That being said, it certainly is not the case that all shoujo protagonists are like this, especially in many iconic series and manga. However, it has become too much of a common theme in the genre for female shoujo protagonists to fully surround their life and interests in a relationship. Yona disproves the shoujo norm by being a great independent character who learns to fight for herself. At first, Yona is very spoiled and was dependent on others and her family name. However, events transpire and she learns how to fight and take care of her own wants and needs. This makes Yona a standout character that should be a role model for years to come.
Who did we miss? Comment your favorite 2015 anime characters below!
---
See Also