Hello from Vault Tec! Are you ready to explore the wastelands in Boston but you don't have enough Fallout themed gear? Look no more!
Bethesda's most highly anticipated game, Fallout 4, releases on Tuesday November 10th, and the hype has only increased for fans of the critically acclaimed series. Fallout's post apocalyptic free roam universe mixed with charming 1950's values and music makes it a very unique game, and it has gained a rather large fanbase throughout the years. Bethesda, who bought the series from Obsidian Entertainment (the developers and creators) before the release of Fallout 3, seems to be catering to its fanbase in a number of ways, especially in terms of merchandise.
It's only a few mere days until the release of what could very well be the Game of the Year. Bethesda has really tried to release Fallout merchandise to cater to their fans and have several items available in retailers and their online store. Whether you want to cosplay, hang out, or just admire the awesomeness of the Fallout universe, there's an item for every Vault Dweller out there.
If you are a fan who's excited for the new release (and we know you are), check out some of this great Fallout merch (also check out our thoughts on Fallout 4 co-op).
---
1. Fallout 4 Vault Dweller's Survival Guide
The title paying homage to one of the most iconic quest lines in Fallout 3, the game guide for Fallout 4 is now available. If you are a completionist, someone who does not want to miss any inch of the Boston wastes, or someone who may get stuck on quests and explorations, this game guide will be packed with everything you need to know about the new area.
What's really awesome is that the limited edition hardcovers come with a poster and exclusive Vault Boy prints. If you aren't interested in the extras, the paperback is a cheaper option. There's also a mobile code for an e-guide if looking through a large book seems too intimidating.
Either way, game guides for large games like this series are amazing, especially when you have no idea where you are going, which can sometimes be the beauty of Fallout. That is, until you run into several Deathclaws in five minutes.
Price: $17 (Paperback)
---
2. Nuka Cola Bottlecaps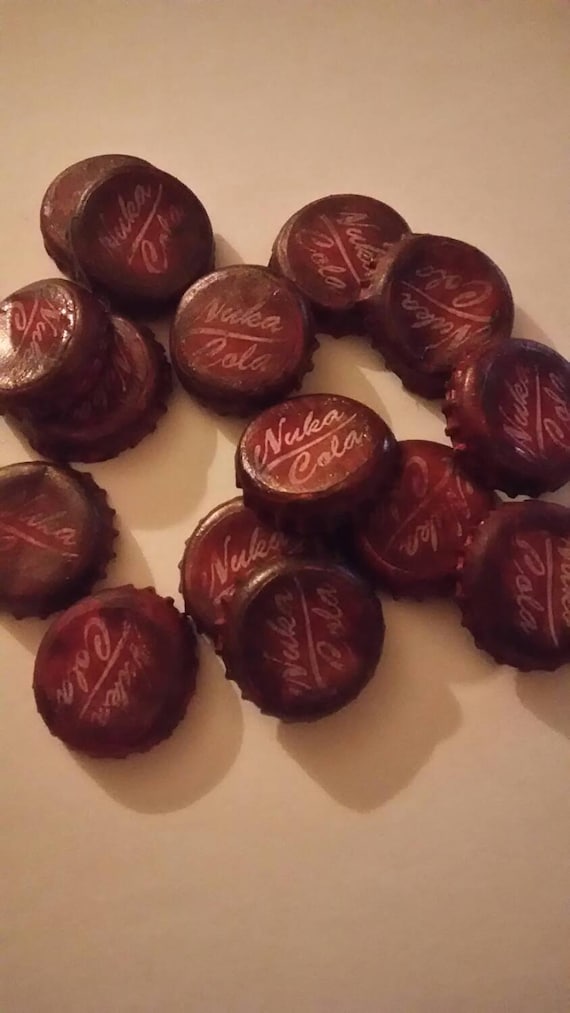 Known as the famous currency in the Fallout universe, bottlecaps are some of the most iconic symbols in the game series. Although they are virtually worthless in the real world, who doesn't want their own Nuka Cola themed bottlecap to add to their cosplay or to stare at on their desk? If you are looking for some caps, there are two options, buying a custom made one or painting some yourself. Either way is fun and an un-costly way to pay homage to the game series.
Price: $5+ (Custom)
---
3. Vault Dweller Cosplay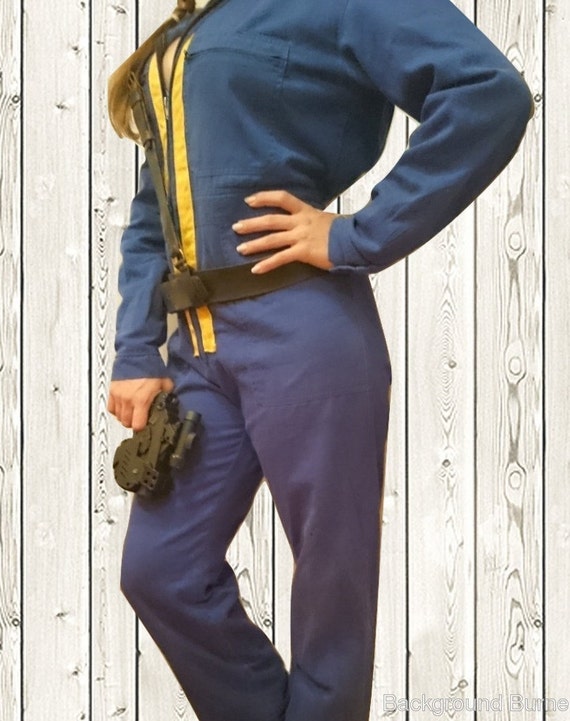 For you next costume party, anime con, comic con, or anything in-between, being a Vault Dweller is more simple than one may think. Many of the outfits include a blue jumpsuit that can be easily found online and altered to become a resident of Vault 111 or one of the many other vaults. Buy a base, paint or sew yellow onto the fabric, and you are now a member of your own Vault! If making the costume sounds like too much of a hassle, there is a suit available on Etsy that will eliminate all of the work of making your own cosplay.
Price: $125
---
4.  Nuka Cola
Target has recently announced that they will be selling actual the Nuka Cola brand at their stores starting this month. No matter how it tastes or how pricey it is, Fallout fans are sure to pick up a bottle to keep, drink, or admire. The price for the drink was just leaked, and it's going to cost around $3 a bottle, which is costly but ultimately worth it.
Cost: $2.99 per bottle
---
5.  Fallout Funko
Everyone seems to love Funko figures. Is it due to their unique, adorable style or widespread availability and variety? Either reason, Fallout's line of Funko Pop are awesome, ranging from the glowing Vault Boy, the female Lone Wanderer, Deathclaws, and Super Mutants.
The Brotherhood of Steel solider is one of the rarest, but has one of the most intricate and best designs. These figures have been popping up at several retailers, from Hot Topic to Target, and start at around 10-12 dollars a figure.
Price: $10+
---
6.  Pip Boy App and Fallout C.H.A.T.
Bethesda has started to have a large presence on mobile platforms, especially since the release of the Fallout Shelter game this summer. However, two new apps have popped up in the last week, and are a must download for fans. The C.H.A.T. app features an entire keyboard with icons, letters, and gifs to send via text and iMessage.
This is more of a fun download, but is still ultimately worth it. The Pip Boy app, however, is simply amazing. For those who will be playing the new game, this app will link to the in-game Pip Boy, serving as another controller. The interface is slick, animations are fluid, and it's almost as if fans will have an actual Pip Boy 3000 in their fingertips.
Price: Free
Platforms: iOS and Android
---
7.  Vault Boy Bobblehead
In the games, collecting bobbleheads is a fun way to receive in game achievements or personal satisfaction. Bobbleheads can be stored in the houses of your characters and often are hard to collect.
Bethesda released a few different lines of bobbleheads based on the in-game counterparts, and like the game, are hard to find and are resold at sometimes 3-4 times the price. However, if your luck trait is maxed out, you may be able to find one at a retailer or online at the start price.
Price: $15+
---
8. Vault Boy Shirt
There's no better way to represent Vault Tec other than a shirt with the mascot of the series. Buying a Fallout themed shirt is an awesome way to represent your love for the games. Although this shirt is widely available, Bethesda has several options on their online store with different styles, some completely exclusive to the new game.
Price: $19.85+
---
9. Vault Dweller Hoodie (and Leggings!)
The winter months are approaching at lightning speed, and it's time to break out hoodies and long pants. Bethesda has a few hoodies available that look like the Vault jumpsuits in the games, complete with an electric blue color, yellow trim, and a Vault number written on the back.
The Fallout hoodies are very comfortable and soft, perfect for lounging or wearing out. There's also delightful looking leggings available in Women's sizes to complete the outfit.
Price: $37.12+ (Vault 101 Hoodie)
$60 (Leggings)
---
10. The Art of Fallout 4
Art books are fantastic collector's items, and The Art of Fallout 4 contains some absolutely gorgeous visuals. Collectors of these types of books will be amazed at this edition, set to release in December with concept arts, exclusive looks at the designs/art, and detail. There are also comments from the developers about the design choices. This book is set to be 368 pages, and is available in hardcover and Kindle editions.
Price: $28+
---
11. Custom Pip Boy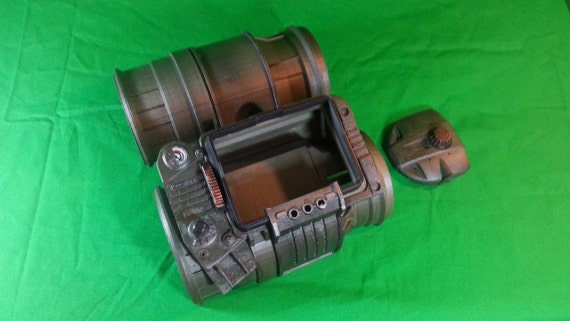 If you weren't able to get your hands on a Pip Boy edition this past summer or any of the random release windows, getting your own Pip Boy is not out of reach. Sellers on Etsy have several custom items available to purchase, many made with a 3D printer. They are made to fit a smartphone and to be attached to one's arm, making them ultra portable and convenient.  Whether it's for cosplay or just an awesome smartphone case, what fan doesn't want their own Pip Boy 3000?
Price:$86+
---
See Also
Nerd Much? might get a small share of the sale, as we are a part of the Amazon Affiliate Program and various other affiliate programs. For more, read our Terms of Use.